Map view layer: Avalanche hazard
Jump to navigation
Jump to search
REQUIREMENTS
Permission
All users
Connectivity
Online only
This document describes the functionality of the Avalanche Hazard layer of the Map view of the InfoEx report.
The goal of the Avalanche Hazard map layer is to provide a spatial overview of all the hazard assessments submitted in the time period of the current report.
Layout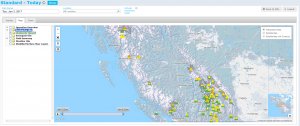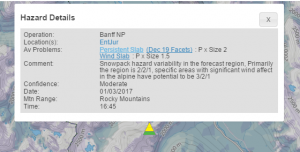 The hazard assessment map layer shows the locations of all the hazard assessments included in the current report (Fig. 1). They are displayed at the centre point of the location associated with the hazard assessment.
The icons of the hazard assessments are shown depicting the ratings submitted by elevation band Alpine (top) / Treeline (middle) / Below Treeline (bottom). The color for each band represents the rating:
1 - Green
2 - Yellow
3 - Orange
4 - Red
5 - Black
Functionality
Click on the Avalanche Hazard checkbox in the layer hierarchy panel to show/hide this layer on the map.
Click on the icon of an individual hazard assessment to view its details in a pop-up window (Fig. 2). The pop-up window contains all of the information that was submitted for the observation including links to Avalanche Problem and PWL details if they were included.
Related documents
Functionality tested by
Jan. 2, 2014: Pascal Haegeli