Deleting a workflow template
Jump to navigation
Jump to search
REQUIREMENTS
Permission
Operation administrator and higher
Connectivity
Online only
This document describes how to delete a workflow in the InfoEx system.
Background
A workflow template links together user-specified tasks into a logical order so that users can repeatedly move through the same steps. Workflows are custom designed for each operation. Each operation must also manage their own workflows. This document provides information on how to delete a workflow that has been previously created.
Step-by-step description
| | |
| --- | --- |
| NOTE | Deleting a workflow template will mean that you no longer have access to the historical workflow views of submitted workflows. Whilst any data entered in the workflows that appear in reports will not be deleted you will not longer have access to the proprietary freeform workflow modules or workflow summaries. Therefore it is recommended generally recommended that workflow definitions that have been used are not deleted. You can rename and reorder them to keep current workflows most visible and useful only deletes the template itself. |
1.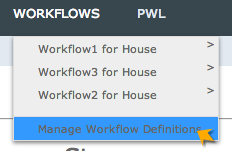 Under the WORKFLOWS menu select 'Manage Workflow Definitions' 2. Find the workflow that you want to delete in the list of workflows in the left panel of the screen under the 'Workflows' section title. 3.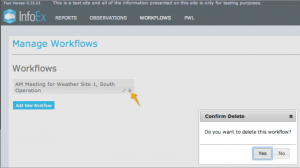 Click on the

button on the right side of the label of the workflow you would like to delete and confirm your decision to permanently delete the workflow by clicking Yes in the 'Confirm Delete' dialog box.
| | |
| --- | --- |
| NOTE | Deleting a workflow template only deletes the template itself. Any observations and assessments that had been entered through this workflow template will be preserved in the InfoEx system. |
Related documents
Functionality tested by
Dec. 24, 2013: Pascal Haegeli