Map view layer: Snow Profiles
Jump to navigation
Jump to search
REQUIREMENTS
Permission
All users
Connectivity
Online only
This document describes the functionality of the Snow Profiles layer of the Map view of the InfoEx report.
The goal of the Snow Profiles map layer is to provide users with a spatial overview of all the snowpack observations submitted in the time period of the current report and give quick access to the individual snowpack observations.
Layout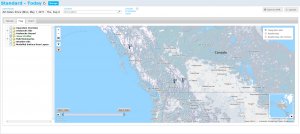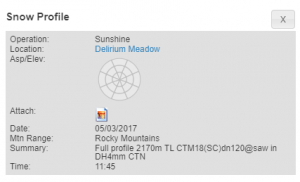 The Snow Profiles layers map layer shows the point locations of all the avalanche observations included in the current report (Fig. 1).
Snowpack observations are shown at the following locations:
Snowpack observations that were only associated with a preexisting location from the location catalog are shown at the centre point of this location.
Snowpack observations that have been given [[[Providing the exact location of an avalanche or snowpack observation|a precise map location]] are shown exactly at this location.
| | |
| --- | --- |
| NOTE | Snowpack observations with a precise location are marked with a next to the location name in the observation pop-up window (see below for more details) |
Functionality
Click on the Snow Profiles checkbox in the layer hierarchy panel to show/hide this layer on the map.
Click on the icon of an individual snow profile observation to view its complete record in a pop-up window (Fig. 2). The pop-up window contains all of the information that was submitted for the observation including links to any associated attachments.
Related documents
Functionality tested by
Jan. 2, 2014: Pascal Haegeli