Report module
Jump to navigation
Jump to search
REQUIREMENTS
Permission
Submission moderator and higher
Connectivity
Online only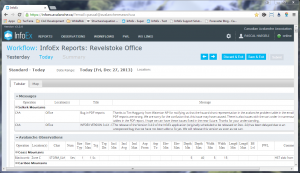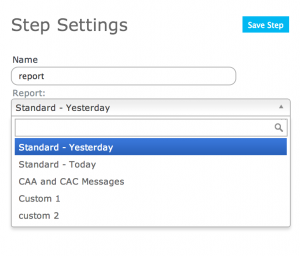 This document describes the functionality of the 'report' workflow module and how to configure it.
Required permissions:
Required connectivity:
Functionality
A 'report' step allows workflow users to view any standard or customized InfoEx reports as part of the workflow. See Customizing reports for more information on how to create your custom InfoEx report.
There are no restrictions on the number of report module steps that can be added to a workflow template.
No information about the InfoEx reports viewed is submitted to the InfoEx server.
It is not possible to view InfoEx reports within a workflow without a live Internet connection.
Layout
The chosen InfoEx report is shown directly within the layout of a workflow (Fig. 1). Note that while it is still possible to use the left click menu for columns to filter, order etc, the layout does not allow you to filter the entire InfoEx report by date or location like you can directly in the report menu.
Settings
The report workflow module has the following settings (Fig. 2)
Name
Name of the workflow step shown in the header of the workflow. It is recommended that you choose a short name (e.g., 'Wx Fcst' instead of 'Weather Forecast') to keep the navigation bar of the workflow as tidy as possible.
Report
Choose any of the available InfoEx system or operation report templates.
None of the activities done within this workflow module are shared within the InfoEx.
Other workflow modules
Modules for entering data that is shared among InfoEx subscribers
Modules for entering proprietary data
Modules for viewing information
Other modules
Functionality tested by
Dec. 27, 3013: Pascal Haegeli