Viewing and downloading charts
Jump to navigation
Jump to search
REQUIREMENTS
Permission
All users
Connectivity
Online only
This document describes the functionality of the Chart view of the InfoEx report.
The goal of the Chart view is to provide quick access to and a graphical view of summarized information. It also allows downloading of the chart to share the information.
Layout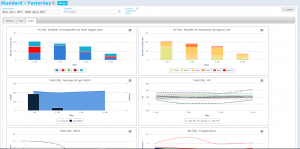 The chart view displays a number of system defined charts. Whilst the charts that appear cannot be altered, the information they display can be user configured.
Functionality
Select the date range, locations and data tables you need for the chart you are interested in. Not all charts will display sensible information without appropriate selection parameters.
Some click on/off configurability is available for most charts in the bottom centre panel.
Chart size can be altered by dragging the bottom corners. Charts can be re-ordered by clicking on their title and dragging and dropping.
A zoom function is available by highlighting the section of the chart you want to view in more detail. A reset zoom button then appears to allow the chart zoom to be reset.
Charts can be printed and downloaded from the menu in the top right corner of each chart.
Related documents
Functionality tested by
Jan. 2, 2014: Pascal Haegeli