Field summaries
Jump to navigation
Jump to search
REQUIREMENTS
Permission
All users
Connectivity
Online and offline
Field summaries refer to large-scale weather observations that are used to give a general overview of the weather conditions in an area. This type of observation is described in OGRS (2014) section 1.6 and is primarily used by recreational backcountry operations.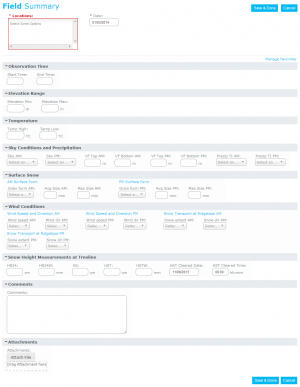 Mandatory fields
Mandatory field are highlighted with a red outline and label. Incorrectly completed mandatory field will result in a validation error on submission.
| | |
| --- | --- |
| NOTE | If you cannot see the highlighted field in the favourite section of your observation entry form, open all of the sections at the bottom to find the field that is causing the issue. |
| | | |
| --- | --- | --- |
| Name | Mandatory | Comment |
| Locations | Always | Location(s) of observation; needs to be single or combinations of operation area, forecast areas or operating zones. |
| Date | Always | Date of observation |
| HST Cleared Date | Conditional | Only mandatory is HST or HSTW is included in submission |
| HST Cleared Time | Conditional | Only mandatory is HST or HSTW is included in submission |
All supported fields
Insert Link to Best Practice Document
Special functionality
General values for HST Cleared Date and HST Cleared Time values stored to prefill these fields whenever you open this form. This functionality aims to assist users in tracking the date and time when they cleared the HST board last. These default values are updated whenever new values are submitted for a field observation.
Related documents
Other observation types
Related functionality
Functionality tested by
Jan. 2, 2014: Pascal Haegeli