Avalanche control
Jump to navigation
Jump to search
REQUIREMENTS
Permission
All users
Connectivity
Online and offline
Avalanche control observations are detailed records of avalanche occurrences as described in OGRS (2014) section 3. A quick entry screen is available to avalanche control extension subscribers to allow efficient input of multiple avalanche observations including no results.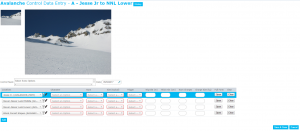 Overview
See Avalanche Control Configuration for configuration information. A separate entry for each of your control routes appears after all the other observation types. When a control route is selected to enter observations for the photo(s) for your control route is displayed at the top of the screen for reference but CANNOT be drawn on using the photo overlay drawing functionality.
Mandatory fields
Mandatory fields are highlighted with a red outline and label. Incorrectly completed mandatory fields will result in a validation error on submission.
| | | |
| --- | --- | --- |
| Name | Mandatory | Comment |
| Location | Always | Location of observation - a line in the quick entry table is automatically created for each child avalanche path for the control route. Additional observations can be added (for these avalanche paths only) using Add. |
| ObservationDate | Always | Date of observation |
| Type of Problem | Always | Type of avalanche problem. See Type of Problem definition table for more information on avalanche problems. |
| Num | Always | Number of avalanches included in this observation. |
| Size (typical) | Always | Typical size of avalanches included this observation. |
| Trigger | Always | Trigger type for repored avalanches according to definitions described in OGRS. |
Other fields
Control Team
This multi-select dropdown list is taken from the User Management list of all the Avalanche Control Team Leaders and Team Members set up for your operation. Team Leaders are highlighted in the dropdown list with '(L)' after their name. Operations with an active Avalanche Control extension subscription can set-up Team Leaders and Members in Changing the permission level of an existing user of your operation
Configuring your quick entry fields
Mandatory fields cannot be removed from the quick entry screen however all other fields can be configured. To do this click on Open Full Form and use the standard Customizing observation entry forms to add and remove fields from the top section. The fields you include as Favourites will appear in the quick entry screen.
Full form
Clicking on Open Full Form also allows you to enter other fields without configuring the quick entry fields.
Clear
Clicking on Clear resets all fields for that entry line.
Special functionality
In addition to associating avalanche observations with a predefined location from your location catalog, it is also possible to drop a pin or draw a polygon on a map to indicate exactly where the avalanche occurred. See Providing the exact location of an avalanche or snowpack observation for more information on how to drop a pin.
If you have a photo associated with your selected location a pencil icon will appear next to the pin. This allows you to draw on the photo and submit the photo with the overlay you have drawn with your observation. Overlays can be viewed in the Photo Overlay Viewer.
A checkbox to control if avalanche control observations are shared with InfoEx is available before submission. This gives submission moderators the option to override the default settings set during configuration.
Related documents
Other observation types
Related functionality
Functionality tested by
Jan. 2, 2014: Pascal Haegeli