Searching for a location in the location catalog
Jump to navigation
Jump to search
REQUIREMENTS
Permission
All user levels
Connectivity
Online only
This document describes how to search for a location in the location catalog of your operation.
Background
There are currently two ways for searching a location in the location catalog
By location exploring the terrain of your operation in the map interface.
By name using the find function of the browser
Step-by-step description
1.

Select 'Location Catalog' from the administration menu (cog wheel) (Fig. 1).
2.

The location catalog screen (Fig. 2) shows your location hierarchy tree on the left and a map on the right.

| | |
| --- | --- |
| NOTE | Please note that depending on your connectivity and the size of your location catalog, it might take a while to load your entire location catalog. A message will indicate the location catalogue is downloading. |
Search for a location spatially
| | |
| --- | --- |
| 1. | Navigate around in the map to the desired location. |
| 2. | Click on any location to show its name and abbreviation in an pop-up window on the map (Fig. 3). |
Search for a location by name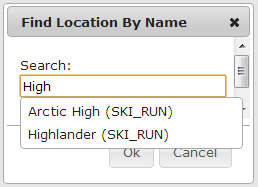 Locations are sorted by location type and alphabetic location name to make searching for a location as easy as possible. However, finding a location manually might be too cumbersome in large location trees with detailed hierarchies. For this case, a search function is useful.
1.
Click on the button above the location tree in the left panel of the application. This will open up a pop-up window with a search field.
3.
Start typing the name of the location you are looking for and the drop down list will automatically show all locations that match your text (Fig. 4).
4.
Select the location you are looking for and click on

OK

. The location tree will automatically expand as needed and the location will be highlighted in blue. The map will automatically zoom to the location.
Related documents
Functionality tested by